07-09/06/2019, Bauska hillfort, LATVIA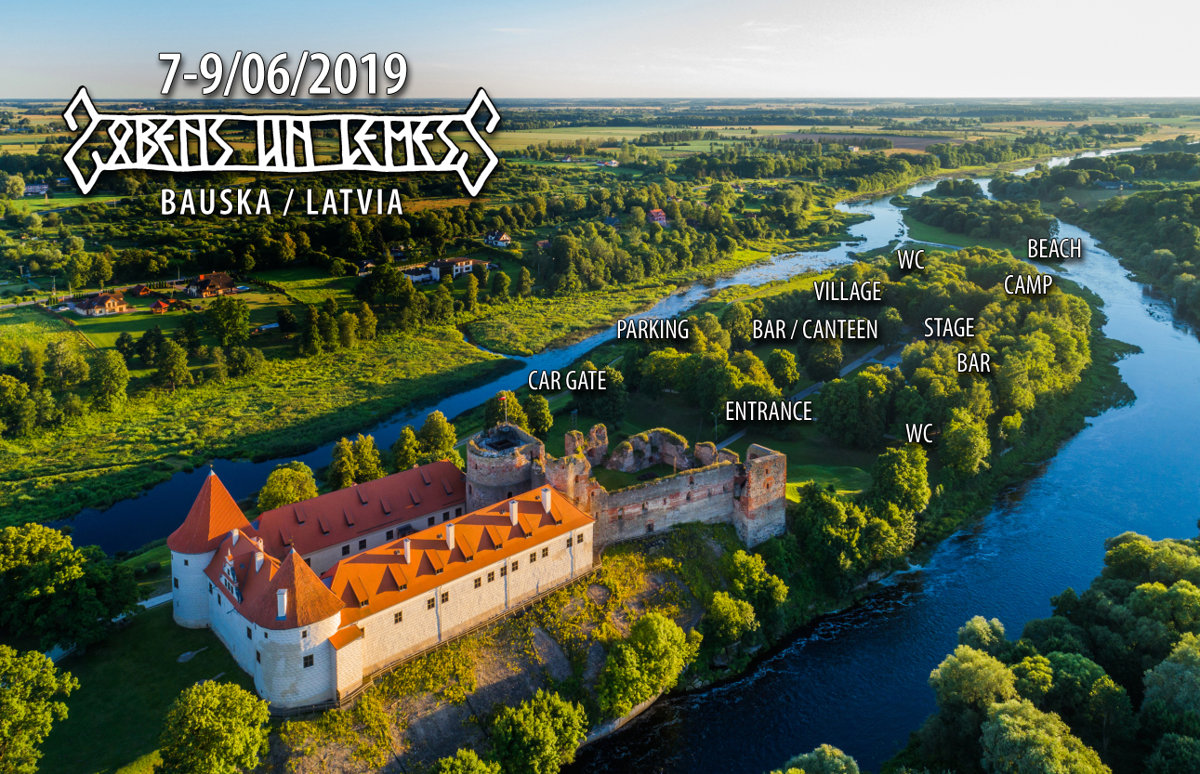 Important information!
Starting June 7th, ticket prices for all festival days will increase to 30eur.
Saturday/Sunday tickets will be available for purchase only on June 8th at all ticket sales locations and online:
https://www.ticketshop.lv/site/events/view/2882
Saturday/Sunday ticket will cost 20eur.
Children aged 12 or less are allowed for free.
Tickets for children aged 13-16 are discounted 50%.
Children under age 16 are allowed to festival only with parents or patrons who must provide written statement that they take all responsibility for their children's actions.
Adolescents aged 16-18 can participate with accompanying adult.
Handicapped persons and pensioners are eligible for 50% discount.
Discounted tickets can only be purchased at the festival gates.
Free camping grounds will be located within festival territory.
Paid parking will also be available at the festival.
Single entry at the festival will be 10eur.
For those who don't want to pay, it is possible to park your car in Bauska. Nearest parking lot is ~ 300m away from the entrance of the festival
It is prohibited to enter the festival with any other drinks but water! All the prohibited liquids will be confiscated.
It is strictly prohibited to start a fire or grill within festival territory!
:::::::::::::::::::::
We are proud to announce that also next year festival "Zobens un Lemess" will take place in the city of Bauska at the picturesque park by the Bauska Castle!
The fifth edition of folk/pagan metal and ancient crafts festival "Zobens un Lemess" will await followers of heavy metal music and folk tradition enthusiasts on June 7-9, 2019 on the land strip between the rivers Mūsa and Mēmele, next to the Bauska Castle.
Running Order:

Friday, 7/06 Gates: 16.00. 18.00-18.50 GYVATA (Neofolk / Folk / Folk Rock, Lithuania) 19.20-20.10 VELNEZERS (Experimental Black Metal, Latvia) 20.30-21.30 PRETERNATURAL (Dark Death Metal,
Latvia
) 22.10-23.10 EINHERJER (Viking Metal, Norway) 23.50-01.00 MELECHESH (Black / Death / Middle Eastern Folk Metal, Jerusalem) 01.30-02.20 DRUUN (Folk Doom Metal,
Latvia
) Saturday, 8/06 12.00-13.30 PROMOČIŲ GIESMĖS (Folk, Lithuania, Senais ciems) 13.30-14.15 ĒNU KALEIDOSKOPS (Neofolk,
Latvia
) 14.45-15.40 MARGA MUZIKA (World Music, Lithuania) 16.10-16.50 PEKLA (Heavy/Speed Metal, Lithuania) 17.10-17.50 CONDESCENSION (Black/Death Metal, Estonia) 18.10-19.00 GREEN NOVICE (Folk Metal,
Latvia
) 19.20-20.10 CATALEPSIA (Gothic / Doom Metal,
Latvia
) 20.30-21.30 FRAILTY (Doom / Death Metal,
Latvia
) 22.00-23.00 MANEGARM (Viking / Black / Folk Metal, Sweden) 24.00 CORVUS CORAX (Medieval / Celtic / World Music, Germany)
History reconstruction clubs:

EXERCITUS RIGENSIS,
LATVIJAS ARHEOKLUBS,
LEITGIRIS (Lithuania),
UPMALE,
ZALKŠI and more

Tickets are on sale in www.ticketshop.lv. Price is currently 27 EUR.
For 2019, festival lineup as in previous years, will include performances of both well-known and accomplished musicians as well as newer bands that could become a discovery for many attendees substantially expanding their musical horizons. In addition, festival program includes masterclasses of ancient crafts, lectures, experiments and other activities. Festival attendees will also be able to view the battle simulations presented by history reconstruction clubs and watch spectacular fire sculptures.
Festival ticket price includes access to the camping field inside the territory of the event. All necessary services including high-quality food, craft beer, refreshments and medical point will be available on site, and beaches in the Mūsa and Mēmele rivers will be available for everybody wishing to cool down.
Welcome!